Earlier this year, tixee launched its highly anticipated Social Trading platform, allowing users to replicate the strategies of other market participants. Harnessing the collective wisdom of the tixee community, we wanted to give our clients the chance to copy and learn from their trading peers. After a successful launch, we're seeing huge enthusiasm for this feature. So how does social trading work? And just how big can it become?
A new generation of financial influencers
Picture the scene: you're a successful trader, with an impressive track record of delivering consistent returns. Congratulations on your winning strategy! In most other industries, you'd be able to share your success with others through strategic partnerships or consultancy work. Yet for many years, individual traders have been denied this opportunity, pigeonholed as lone rangers operating in darkened bedrooms.
But a switch has been flicked.
Social trading is here, offering expanded opportunities for strategy providers and followers. By enabling our community to pool their knowledge, we're providing greater incentives for those with expertise to share, and greater advantages for those still learning how to trade.
Using our dashboard, users can access advanced performance data while sharing or following the strategies that best fit their preferences. Every strategy is described, listed and ranked on a live leaderboard. By making these more accessible and quantifiable, we're creating a trustworthy environment in which to encourage peer-to-peer strategy replication.
No longer do traders need to rely on Whatsapp groups and Youtube communities to sell their winning strategy. Instead, today's financial influencers must compete in an open arena, with only the best rising to the top. It's meritocratic. It's exciting. It's groundbreaking.
Why go social?
The sharing economy has witnessed incredible growth in the past decade. Airbnb. Uber. Zipcar. These economic disruptors have shaken up their respective industries, their business models founded on the simple principle that what's mine can also be yours. Yet the financial industry has lagged behind. Why is that?
We believe it's because financial markets have historically favoured the big boys. Before the fintech revolution, it was prohibitively difficult for an everyday investor to trade global markets. The knowledge wasn't available. The tools weren't there. Even the language used was unfamiliar. Back then, the world of candlestick charts and data releases seemed out of bounds for most people.
Now the picture looks a lot different. As the number of digitally friendly platforms has increased, so too has the number of retail traders. The pandemic saw an unprecedented influx of DIY traders, attracted by the idea of putting their spare time and savings into something that might secure a healthier financial future. The influence of these newcomers should not be underestimated. In our opinion, they should be encouraged.
Since our foundation, we've been determined to redress this balance, and to create products and services that anyone can enjoy, no matter how experienced they may be. From the simplicity of our user experience, to our straightforward pricing structures, we're always on the lookout for ways to make trading with tixee as seamless as possible. This is why social trading was the logical next step for us as a business.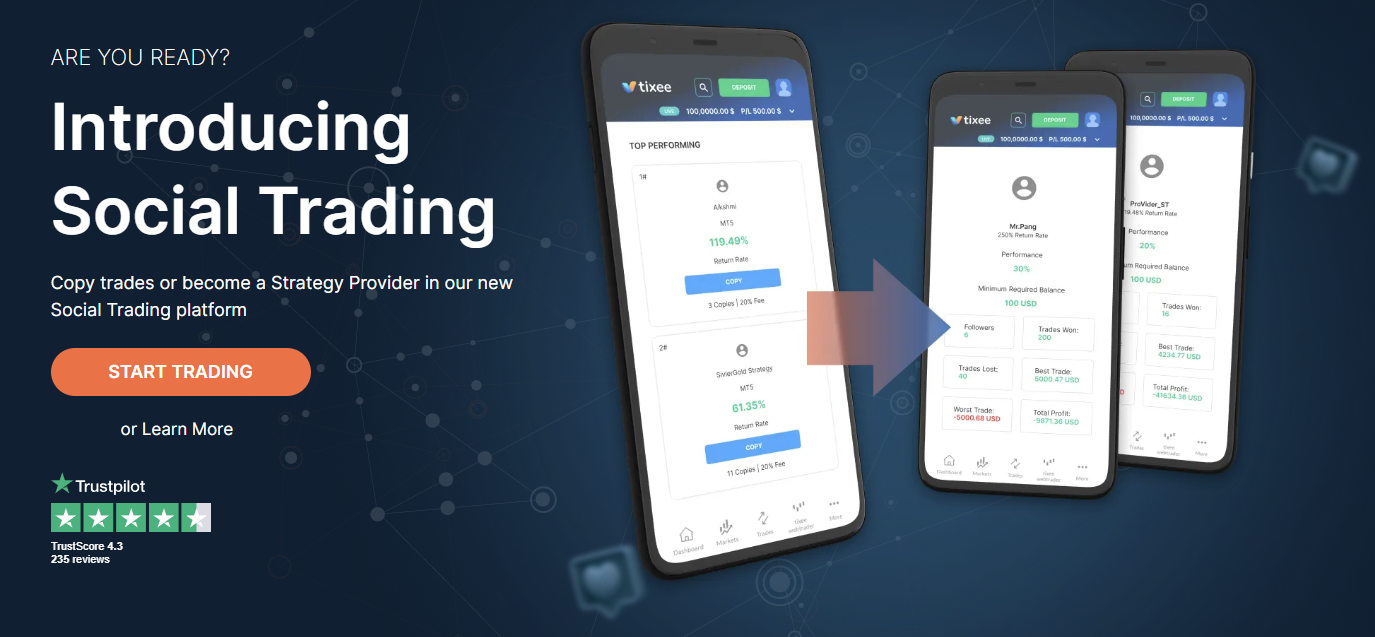 Vision to fruition - how we got here
When we started working on our social trading feature, we had a very clear picture of what we wanted to achieve. Anything less would have undermined the transformative ambitions we had. We knew that the platform needed to function well. We knew there needed to be enough data available. And we knew we had to present the feature in a way that spoke clearly and intelligently to users.
Right from the start, we made it a clear priority to listen to the views of our client base. We know that copy trading has been done before in other areas of the financial industry, with varying levels of success. We wanted to draw upon the experience of our customers, many of whom have experience with other providers, to offer an all-in-one service that fulfills their needs.
Having allocated a significant amount of time to market research, we were finally ready to begin creating our new product. Thanks to the sterling efforts of all teams involved, we were able to release social trading right on schedule. We benefited from excellent communication, clearly defined priorities, and a commitment to keeping things simple.
Post-release, we're proud of what we have achieved, and are now ready to tell the world about social trading, and the many benefits it can bring.
How does it work?
When participating in social trading, users will have two options: to become a strategy provider or a strategy follower. Each brings its own advantages and incentives. For providers, there's the opportunity to collect up to 20% in performance fees. Conversely, followers will have a chance to grow their wealth by copying the trading activity of verifiable experts.

All tixee clients have instant access to our social trading portal, which provides up-to-date information on the strategies available to follow, as well as a leaderboard that displays the top-performing, trending and most copied strategies.
Each strategy provider has detailed information about their strategy performance, total returns generated and the number of active copiers. The performance fee can be adjusted up to a maximum of 20% - which means that every time a follower makes money, the provider will receive a generous share of that amount. They've done the hard work, after all.
The process is similarly intuitive for strategy followers, who have a vast dataset to draw from when selecting a suitable option. Insights include strategy performance, total profit, market exposure and trading habits. With more visibility than ever before, inexperienced traders can share in the success of their peers while learning something about the markets in the process.
How to get started
With two avenues available for those looking to get involved with social trading, the process looks a little different depending on the option you choose. So here are the steps required:
Strategy follower
Step 1. Select a trader
Step 2. Adjust your risk parameters
Step 3. Click 'copy'
Strategy provider
Define your trading strategy
Set your performance fee
Click 'register'

We've kept the process deliberately simple, not just to speed things along, but to ensure that inexperienced traders don't get put off by needlessly elaborate user journeys. Confidence comes from clarity, which is why we've streamlined our social trading feature while including necessary safeguards along the way, such as risk limits.
Can you be a provider and also copy other providers at the same time? Absolutely. We want to make this product as accessible as possible, which is why you can enjoy the full advantages of both options without needing to create a new account. Indeed, it is our hope that today's strategy followers will become tomorrow's providers, as they shadow some of the most technical traders within the tixee community.
Is Social Trading the future?
Social trading provides an innovative new way for traders to increase their earning potential. Not only does it allow trading strategists the opportunity to receive a commission from their performance, it also grants newcomers the chance to share in the success of their peers. In short, the benefits can be enjoyed by everyone - whichever side you're on.
If you're still not convinced about the advantages of social trading, here are some of the key reasons why traders might choose to go social:
1. Traders can learn to control their emotions
For newcomers, the financial markets can appear overwhelming. Natural emotions like fear and greed can lead to miscalculations, which is why a trader's education normally involves learning how to control such impulses. With copy trading, novice traders can leave these decisions with other, more experienced traders. In the process, they can learn more about some of the key rationale behind opening and closing a trade.
2. Allows investments with limited market knowledge
You no longer need to be an expert to trade financial instruments. Instead, tixee's social traders can replicate the success of other, more skilled traders. Their success might  become your success, with strategy followers given the opportunity to grow their financial knowledge while growing their trading balance.
3. Stay one step ahead
Only the best strategies rise to the top. Strategy followers have a vast array of data insights to use when deciding which strategy to copy. Usually, the strategy needs to have a 12-month track record of results with a certain maximum drawdown limit. Therefore, the strategies you follow have already passed very tough criteria.
4. Assists new traders
The above-mentioned advantages of filtering risky strategies, providing reliable trades to mimic, and no advanced financial knowledge requirements make social trading potentially ideal for beginners. You can observe how veteran traders perform, trade, and learn from them while exploring the market.
5. A passive investment strategy
It doesn't require a lot of homework. You can start trading today! If your trader does well, you do well and if they don't, you can move on to a new trader. The best part is that you can trade at your own convenience and don't have to keep checking back repeatedly..
Are there any cons? Of course. We don't think of social trading as a complete trading solution, and we'd advise all participants to remain aware of the inherent risks of trading financial markets. While some strategies have been proven to deliver outstanding historical results for clients, this doesn't mean they will continue to perform in all market conditions. It is up to the user to decide when and where to utilise an existing strategy.

That being said, each strategy contains rich data insights to help strategy followers decide on the best approach based on prevailing market conditions. For example, if the markets are particularly volatile, a series of small, short-term trades might tend to yield better results than a longer-term approach.
Why tixee?
We've seen the benefits of Social Trading, but why choose tixee as your broker of choice?
Offering market-leading spreads on a huge range of global assets, tixee's unrivaled reputation hasn't been achieved by accident. Winning multiple awards since our inception, we're committed to delivering innovative trading solutions for clients around the world. This means developing unique products and services to help users navigate modern markets. It also means creating the optimum trading environment to maximise potential profit opportunities. Whether it's our low market spreads or the wide choice of instruments available, tixee is a one-stop shop for traders.
Based on the values of transparency, simplicity, innovation, and empowerment, tixee has developed into an interactive, top-of-the-line and unique service provider in the industry. Being more than just a trading platform, we aimed to build a global team with some of the most talented individuals in their fields, giving tixee the strong backbone for a client-centric experience.
We believe in being true to our clients and stand by complete transparency. This is why at tixee, our clients can trade with peace of mind, knowing that we speak simply and truthfully, no matter the circumstances, to make informed decisions. We hold ourselves and our colleagues to the highest ethical standards. Furthermore, as a regulated provider, we uphold the highest integrity, giving you a supreme environment for safety and security.
With simplicity inherent throughout our user experience, we aim to attract experienced and inexperienced traders alike with the promise of a painless trading journey. Whether it's our streamlined registration process or the ease with which users can communicate with our customer service team, trading with tixee is exciting, intuitive, and free from needless complexity.
If you'd like to learn more about tixee, please don't hesitate to get in touch with a member of our team. We're on hand 24/5 to answer your questions and are excited to welcome more financial market enthusiasts to our growing community.
Visit us at: https://tixee.com/