The Barcelona-based payment service provider PayRetailers is the gateway for European companies that want to enter the LATAM markets. The PSP offers one of the biggest APM suites in the sector and grows very quickly due to its outstanding product-market fit.
Although just founded in 2017 PayRetailers already covers the majority of Latin American countries with its services. In that regard Mexico and Brazil are the biggest and most active markets of operation for the company. With a growing client portfolio, more operating countries and ever enhancing portfolio of alternative payment options – currently counting over 250 types – there comes a lot of responsibility in terms of B2B support, client onboarding, legal and compliance challenges.
Work closely together with merchants and partners
Especially the B2B support plays an important role to help clients solve their challenges, be it known, like technical support, or new, like requests for new payment options or new ways of implementation of existing types of payment. PayRetailers has a very capable and quick IT team that can help in a timely manner. The best proof for that is the recently launched PIX payment system by the Brazilian government, where PayRetailers belongs to the first providers to offer this new form of payment. It required to develop a completely new software for processing QR-codes and mandatory implementation of gateways to all major Brazilian banks.
While PIX being an externally induced progress, PayRetailers has a track record of working together with existing clients on developing new payment options in-house that later may be offered to other clients and be added to the already huge and growing number of payment options.
The day-to-day tech-support can be handled effectively as well and a main supporting factor is that the company decided from day one to use just one single integration to fit all needs. As the underlying technology, like gateway systems, browser-capabilities or consumer devices, becomes more powerful and mature, this decision shows to be correct and become a major advantage in the long run.
Compliance and legal circumstances with onboarding
Nowadays it's not any longer enough to just focus the expertise on a well working technical gateway system. Companies need to have processes and people in place that care for the day-to-day intricacies of the financial regulation in which they are embedded. At PayRetailers the Operations-team has set up a strong anti fraud, AML and KYC-handling that helps clients process e.g. daily chores like chargebacks or even conduct deep analyses of whole payment cascades that require legal assistance and industry knowledge.
For onboarding of new clients, merchants and partners alike, PayRetailers makes sure to take all necessary steps in terms of due-diligence and business cases. A very important factor for the success of the company is running local brick-and-mortar-offices to be deeply rooted in the markets and feel even the slightest change of sentiment that could affect the overall business. Due to this fact the majority of PayRetailers' Operations-team including the companies' Head of Compliance is currently located in Mexico – its bridgehead of business. This way many strong partnerships with local banks, merchants and lawyers could be formed and this will help manifest the position of the company in the future.
The responsibilities are split up between LATAM and Spain. While in Barcelona the majority of merchant onboarding happens, in Mexico the more regulatory aspects, including licenses and work with legal partners, is being carried out. In Barcelona the CEO and the leadership team are located and with Mexico being the biggest office of the company in LATAM, there is a strong communication and reporting going on between the headquarters and this office. This way PayRetailers is able to effectively run this multi-continent business while still being present locally.
Personal thoughts of the Head of Operations
The Head of Operations at PayRetailers, Helena Sabater, is one of the first persons in the leadership team of the company and emphasizes the outstanding company culture: "The development of PayRetailers within the last 3 years is remarkable. From being a start-up with just 4 people we quickly grew to yet over 50 experts. And although our growth was and still is very quick, we managed to do so in a very orderly manner. We conserved the advantages of a start-up, which means collaboration with short ways of communication, effectively carried out work and a special mentality that helps glue together the team. We have a 'just do it'-mentality, help each others and celebrate successes together. I'm very proud to be part of this group of people and can say that PayRetailers has become a mature company."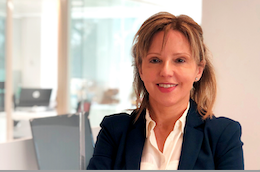 Helena Sabater, Head of Operations at PayRetailers